If you're running a successful business, opening a second location can be an exciting event. It isn't always easy to tell, however, when you're truly ready to make that momentous move. In this video from MSNBC's Your Business, you'll meet a dynamic entrepreneurial couple who own a juice bar and vegan bistro called Kale Café. After finding success with their first restaurant in Daytona Beach, FL, they decided to open a second location in nearby Ormond Beach. If you're planning to expand your business in Phoenix, you can take heart from their example—and learn the same lessons they learned in this video. As you're setting up shop in your new store, don't forget to buy a first-rate custom-made sign , vehicle graphics, and other business signage so you can attract new customers.
If you're looking for a new way to promote your business or get more bang for your marketing buck, you may be overlooking one simple strategy that never stops giving back to your company: a business sign. Business signs do everything from increasing the visibility of your brand to deepening the connection your existing customers have to your company, and unlike other marketing efforts, there is no campaign end date. Business signs market your business around the clock and boost the amount of pedestrian traffic you get through your door. Make your signage work for you by contacting 1 Stop Signs . Let us help you create a custom sign that effectively promotes your business, using illuminated lettering, brand-specific coloring, and other features you need to build your brand awareness. We're on standby to help you with business signs in Phoenix and Chandler when you need us. Please help other business owners discover the power of a great sign by sharing this information.


If you drive through Phoenix, you'll notice numerous examples of signage wherever you look—neon signs, restaurant signs, and even vehicle graphics. Can you guess where you might find the most signs in a single building? A hospital is a plausible answer to that question, since hospitals and other healthcare facilities need to put up numerous signs in order to direct their patients to the right destinations. These are some of the aspects of a successful hospital signage system: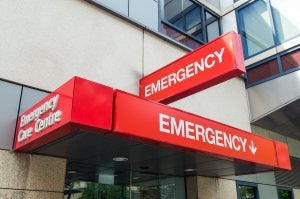 New and Well-Maintained Signage
First and foremost, the signs in a healthcare facility need to be clean and well-maintained. If the signs are showing their age, they will reflect poorly on the hospital and may be harder to read. Smart and up-to-date signs, meanwhile, will project an image of competence and professionalism.
Illuminated Outdoor Signs
Hospitals and other healthcare centers have to be accessible to patients and visitors around the clock, which means that all outdoor signs need to be visible even in low-light conditions. Making these exterior signs illuminated is an effective way to ensure that they are always readable. The signs directing drivers to the hospital should be especially bright and noticeable.
Easy-to-Remember Names
When hospital corridors have numbers or generic names, it means that it's going to be more difficult for patients, visitors, and even staff to remember them. Giving these corridors memorable titles—for example, naming them after local streets or well-known landmarks—is a good way to ensure that everybody will be able to keep them straight.
Identifying Graphics
Signs can include more than text, of course—in fact, it can make them much more useful. Adding photos, diagrams, maps, and other graphics to signs can help provide information to hospital visitors, making them less likely to get lost if they are unfamiliar with the building. Scrolling digital signs are even more helpful, since they allow the hospital to provide visitors with continual updates throughout the day.

A custom-made exterior sign can be the perfect addition to your Phoenix business' storefront. When you're having your outdoor sign designed, however, it's easy to overlook one of the single most important factors: the font you use for the text. The font may seem like a minor issue, but it really isn't—using the wrong font can confuse your customers or even make your sign difficult to read. Here are some of the main options that are available to you for your sign's font: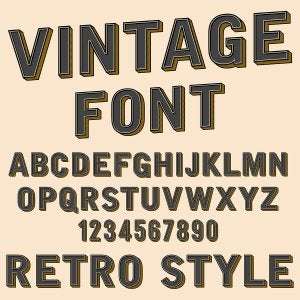 Script and Cursive
While cursive is no longer widely taught in schools, it still has its place in design. Rendering your business' name and motto in script can give your sign the touch of sophistication and class you're looking for. It's important to make sure, however, that the size of the text is large enough—and the letters bright enough—to be read easily.
Serif
Serif fonts have distinctive lines jutting out of the ends of their letters. You've probably seen serif fonts used numerous times—Times New Roman is one of the most popular examples. Serif fonts have an elegant, traditional look that may be suited for your sign if you want to project a serious, professional image.
Sans Serif
As you might guess from the name, sans serif fonts do not have the tiny lines used in serif fonts. Because of their simplicity, sans serif fonts are extremely popular in today's advertising graphics. If your sign's text is short and straightforward, a sans serif font is likely the best choice for you.
Decorative
Decorative fonts, as the name suggests, have unusual, unpredictable letter designs that are meant to grab the viewer's attention. While decorative fonts do run the risk of being difficult to read, a well-designed and imaginative decorative font can help to make your business stand out from the crowd.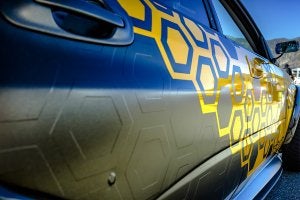 If you want to get your business noticed, one of the best—and most easily overlooked—places to advertise it is on your car. Vehicle advertisements are a terrific way to boost your business' visibility and reach a much wider audience. You have two basic options for advertising on your vehicle: vehicle graphics and magnetic signs. Each of these options has its own advantages. Magnetic signs are more cost-effective than full-fledged vehicle graphics, and you can easily remove them from your vehicle whenever you want to. They can also be custom-sized to fit your vehicle. Vehicle graphics, on the other hand, are more durable and long-lasting than magnetic signs, and it's not possible to steal them. They're more versatile than magnetic signs, as they can be placed anywhere on your vehicle. You also do not have to remove them when you want to wash your vehicle. Whatever option you decide on, both vehicle graphics and magnetic signs are sure to attract more attention to your Phoenix business.
Archives
2018
2017
2016
2015