Our Custom Business Signs Services in Phoenix DMA
Helping clients run successful businesses and brands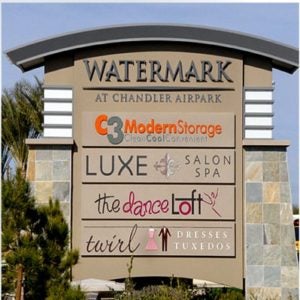 Thank you for considering our custom business signs services at 1 Stop Signs! We've been helping clients in the Phoenix, AZ, area and beyond build their brands successfully for more than 2 decades. At 1 Stop Signs, you'll find an extensive collection of custom signs and graphics for your business. From illuminated outdoor signs to interior business signs, our experienced creative team will help you find the perfect match to keep your business growing. Since 1996, we have been utilizing our knowledge, skills, and expertise to help all sorts of clients grow their businesses. Whether you're an elementary school, local diner, or a bank—it doesn't matter. We have custom business sign solutions for everyone! Contact us today for more information. 
Just some of the many different types of signs or graphics that we can do for you include the following: 
Illuminated channel letters
Halo-illuminated reverse channel letters
Illuminated sign cabinets
Non-illuminated dimensional letters
Illuminated or non-illuminated blade signs
Illuminated or non-illuminated window signs
Banners
Barricade graphics
Window graphics
Vehicle graphics and magnets
Digital print wall murals
Short Run Posters
Site signs
And much more!
If you didn't see what you're looking for on the above list, please speak to us at your earliest convenience. At 1 Stop Sign, we're confident that we have exactly what it takes to help you develop and create a unique brand identity that will stand out from the competition, and we'll be there every step of the way to help you achieve your business goals. If you're unsure if business signs will be right for your business, read our article on how business signs can help you grow your business.
Why 1 Stop Signs?
If you're unsure about working with us, know that we provide some of the fastest turnaround times in the Phoenix, AZ, area, all without sacrificing quality. We exclusively use high-quality products, ensuring that your custom outdoor and indoor signs can withstand the tests of time, weather, and exposure. We also utilize state-of-the-art manufacturing equipment, so you get your results as quickly as possible. But most importantly to us, we strive to provide nothing but the absolute best in customer service—because that's why our dedicated client base comes back to us for all their custom business signs. We think you'll see the 1 Stop Signs difference for yourself, too! 
No matter what part of the custom business signs process you need assistance with, we are here for you. With years of experience in the industry, we know exactly how to handle every step of the process. Whether it's design, manufacturing, service and installation, site surveys, engineering, project management, permitting, or packaging and freight, we'll handle it for you. Do you have specific requirements that must be strictly adhered to? We won't cut corners—we'll only give you a gorgeous final product that you deserve. Stop by our offices today in Phoenix to see how we can help you build your brand with our custom indoor and outdoor signs! 
To schedule your free estimate, contact us today at (480) 961-7446 and speak with a friendly and professional representative!
Our Values
Excellent Customer Service
State of the Art Manufacturing
Quick turnaround