Pole Signs in Phoenix DMA
Make Your Business Stand Out With Pole Signs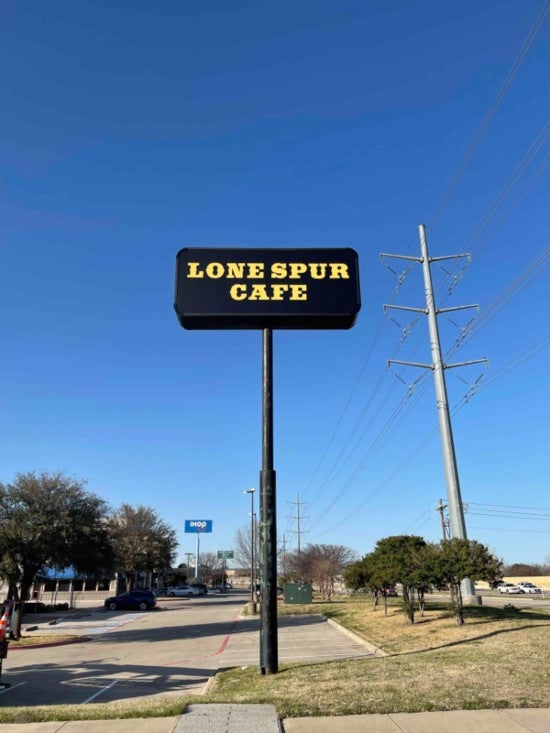 As a leading sign company, 1 Stop Signs specializes in designing and creating high-quality pole signs that are perfect for any business. Our pole signs are custom-made to fit your business needs and are designed to attract the attention of potential customers. With a range of benefits, including increased visibility and brand recognition, our pole signs are an excellent choice for businesses looking to make a statement.
When it comes to making your business stand out, having the right sign can make all the difference. Pole signs are a great way to catch the eye of potential customers and let them know that your business is there. At 1 Stop Signs, we understand the importance of having a high-quality, eye-catching pole sign that represents your business well. That's why we offer a range of pole sign services, from design to installation and maintenance, to ensure that your sign is perfect for your business. With our team of experienced designers and installers, you can trust that your pole sign will be of the highest quality and will help your business make a lasting impression.
Pole Sign Services: Design, Fabrication, and Installation
At 1 Stop Signs, we offer a range of pole sign services to ensure your business has the best possible sign. We begin by working with you to create a custom design that is tailored to your business' style and brand. Our team of experienced designers will work with you to ensure your sign meets your exact specifications and needs.
Once the design is finalized, we move on to fabrication. We use only high-quality materials to ensure that your sign is durable and long-lasting. Our fabrication process includes everything from cutting and shaping the sign to painting and installing the final product.
Increase Your Business' Visibility and Brand Recognition
Investing in a pole sign for your business can provide a range of benefits. One of the primary benefits is increased visibility. Pole signs are mounted high on poles, making them visible from far away. This means that potential customers can spot your business from a distance, increasing the chances of them stopping by.
Another benefit of pole signs is increased brand recognition. A well-designed and eye-catching pole sign can help your business stand out from the competition and make a lasting impression on potential customers.
Safe and Professional Installation Services
At 1 Stop Signs, we understand that installing a pole sign can be a daunting task. That's why we offer safe and professional installation services to ensure that your sign is properly installed and secured. Our team of experts has years of experience installing pole signs, and we use only the best tools and equipment to ensure that the installation process is smooth and efficient.
Pole Sign Maintenance: Keep Your Sign Looking Great
Regular maintenance is essential to ensure that your pole sign remains in top condition. At 1 Stop Signs, we offer maintenance services to keep your sign looking great. Our team can perform regular inspections and cleanings to ensure that your sign is free from dirt, debris, and other contaminants that can cause damage over time.
Schedule Your Appointment: Get Started Today
Are you ready to get started on your new pole sign? At 1 Stop Signs, we are committed to providing our customers with the best possible service.  Contact us today to schedule your appointment. We offer a range of services, from design to installation, to ensure that your sign is perfect for your business.
Our Values
Excellent Customer Service
State of the Art Manufacturing
Quick turnaround