Install Channel Letter Signs in Phoenix DMA
Attract Attention With 1 Stop Signs' Gorgeous 3D Letter Signs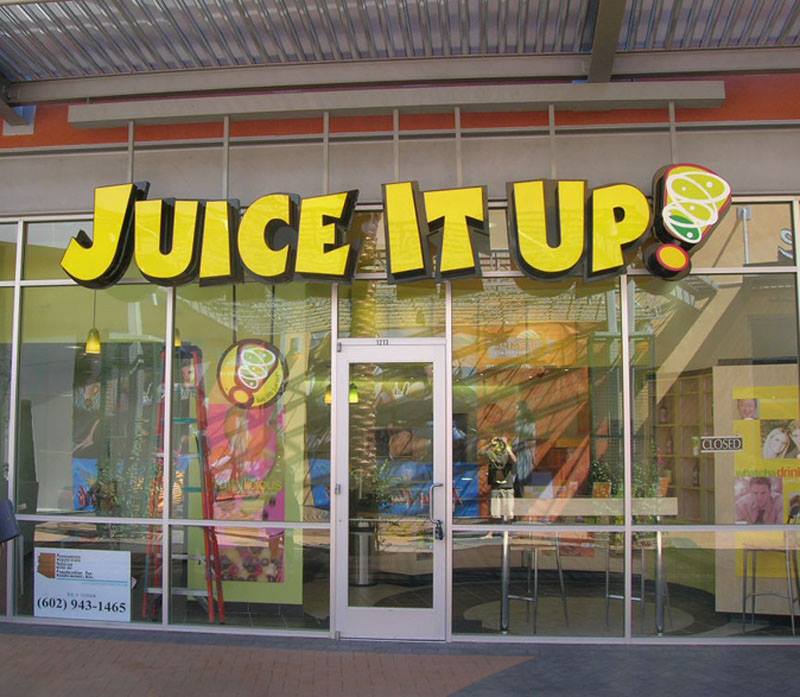 3D letter signs are one of the best ways to attract attention to your company's storefront or location. 1 Stop Signs is proud to be your one-stop-shop for custom dimensional letter signs in the Chandler and Phoenix, AZ area and beyond. We've created stunning, one-of-a-kind signs for numerous businesses across the United States and Canada, as well as across the globe. Our dimensional signs are durable enough to withstand the elements without cracking, chipping, or fading, making them an excellent low-maintenance option for companies looking to install hassle-free signage for their branding or advertising needs. Contact us to get started with a free estimate or to learn more about their many benefits!
Common Uses for Dimensional Signs and How They're Made
We create dimensional letter signs by combining multiple layers of sign materials until it forms an eye-catching three-dimensional effect with the graphics and lettering. We achieve this by cutting one sign material into a specific shape or design and then mounting it atop another contrasting sign material. 1 Stop Signs can accommodate small or large batches of dimensional signs with full-color custom digital printing or black-and-white ink with a glossy or matte finish and embossed designs for more visual pop. Dimensional signs offer high visibility for any business signage, thanks to their easy-to-read letters and clear, colorful graphics. They're ideal for wayfinding signs, branding and logo signs, location signs, departmental signs, and special event signs. No matter where you use them, dimensional signs stand out with a highly polished and professional look. View our photo gallery to see some of our custom signs in action, and then give us a call if you like what you see.
Custom Dimensional Sign Options and Available Materials
At 1 Stop Signs, we can customize your company's dimensional signs to accommodate your needs. Adding 3D shapes such as your logo helps draw visual interest, while 3D letters help you deliver your message to your intended audience in an easy-to-read format. Our dimensional signs are fabricated using various materials, including aluminum composite material (ACM), acrylics, and Sintra expanded PVC board, which is a durable, lightweight material that's resistant to moisture. ACM's durability makes it ideal for interior and exterior signs, while acrylic signs are engineered to have superior impact strength and are capable of withstanding even the harshest weather conditions. We can add a gloss, satin, or matte finish to make your sign shinier in appearance while also prolonging the lifespan of its graphics. Floating frames, stand-offs, and other hanging options are available to give you the ultimate flexibility.
Decades of Expertise Creating Custom Interior & Exterior Signs
For over two decades, 1 Stop Signs has provided custom interior and exterior signs for organizations spanning nearly every industry. Whether you manage a sub shop, diner, bank, or school, we would welcome the opportunity to devise a unique solution that meets your criteria and budget. Aside from our non-illuminated dimensional letter signs, we also create monument signs and insert panels, banners, architectural signs, LED signs, window graphics, vehicle graphics, custom printed decals, and so much more. You can rely on our expertise in every step of the design and manufacturing processes. We use the highest quality sign materials to ensure your custom signage stands the test of time. Check out our testimonials to see why our company comes so highly recommended by satisfied customers.
Contact Us to Request a Free Custom Dimensional Sign Estimate
If you're ready to explore the benefits of dimensional letter signs for your Chandler or Phoenix-based business, we would love to hear from you. Since 1996, our company has offered state-of-the-art signage for many nationally and internationally recognized brands, including Subway, Carquest Auto Parts, Nike, Cold Stone Creamery, Moe's Southwest Grill, Surf City Squeeze, American Title Loans, and more. Please contact us today to find out how we can help your business stand apart from your competitors. We'd be happy to provide you with a free estimate for all your custom dimensional sign needs. Be sure to ask about our financing options to help your business get the custom signage you need without the wait!
Our Values
Excellent Customer Service
State of the Art Manufacturing
Quick turnaround