One-Stop Shop for Custom LED Signs in Phoenix DMA
Custom LED Signs in Phoenix & Chandler
There's no better way to attract your customers' attention than with a custom LED sign above your storefront. Lighted sign letters are especially important for your business to remain seen after dark. 1 Stop Signs can help you make a great first impression by designing and manufacturing beautiful LED signage for your Phoenix, Arizona business. Our skilled team has all the knowledge and tools needed to craft beautiful, attention-grabbing signs that increase the foot traffic into your store. Contact us today to find out how we can develop a signage solution for you!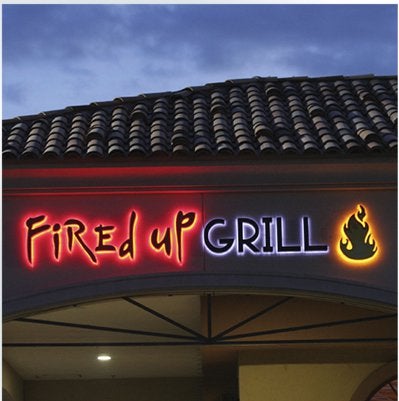 Benefits of LED Lighted Sign Letters
A growing number of business owners are choosing to incorporate LED (light-emitting diode) technology into their signage. Could this be the right option for you? Consider the benefits:
Endless Applications: LED lighting is a revolutionary method of illumination used for everything from overhead lighting to digital clocks to custom business signage. LEDs can be coupled with durable plastic frames, custom print graphics, or cut aluminum. This gives you nearly limitless customization options for indoor or outdoor use.
Eye-Catching Good Looks: Glowing signs are more likely to attract a customer's gaze. LEDs produce a particularly bright, clean-looking light. In this way, installing high-quality LED display signs can help you stand out from the competition.
Low Operating and Maintenance Costs: LED bulbs consume a fraction of the energy that other light sources use, promoting a better environmental outlook for your business and reducing your operating expenses. Custom LED signs are also cheaper to maintain than traditional neon lights because the bulbs last longer. No matter how you look at it, LED signage is a money-saving investment.
Cool to the Touch: Older forms of lighting, including incandescent and neon lights, give off tremendous amounts of infrared (IR) and ultraviolet (UV) radiation. This presents a burn hazard to people and materials. LEDs emit virtually no IR or UV radiation, so they stay cool to the touch for safer, more efficient operation.
Increase Your Curb Appeal with Outdoor LED Signs
Exterior signage is a critical part of your building's curb appeal. Lighted sign letters help new customers find your business, and returning customers are more likely to remember right where you're located. Illuminated signs work particularly well for stores with late hours, such as restaurants, hotels, gas stations, night clubs, movie theaters, and convenience stores. Turn to the experts at 1 Stop Signs for help furthering your brand and promoting a positive image of your business with affordable LED display signs.
Indoor LED Signs Highlight Special Areas and Displays
Interior business signs are just as important as exterior ones. Stylish LED signage could be the perfect option for drawing attention to a specific area of your shop, such as the order station, checkout counter, or special promotional display. Fully customizable options let you select the style, color, and brightness of the lights, along with the size, lettering, and format of your signs. The subtle glow of custom LED sign in your lobby conveys a sense of professionalism you can't get any other way.
Recreating the Look of Neon Signs with LEDs
Neon lights have a vintage charm that may be appropriate for your business. After all, restaurants, bars, hotels, and music venues of yesteryear were famous for attracting audiences with flashing, buzzing neon signs. Unfortunately, neon is expensive, both in terms of the initial purchase price and long-term upkeep. 1 Stop Signs can use high-efficiency, low-energy LED bulbs to replicate the allure of neon lights without any of the drawbacks.
Request a Free Estimate for Custom LED Signs Today
At 1 Stop Signs, we strive to provide the best-quality commercial signs available anywhere. As our name suggests, our goal is to be a one-stop shop for all your interior and exterior signage needs. We can help you formulate a design from scratch or manufacture LED signs based on your existing logo and lettering. Contact us to request a free quote today. We have been helping Phoenix-area business owners boost their visibility with custom signs since 1996.
Our Values
Excellent Customer Service
State of the Art Manufacturing
Quick turnaround