Custom Window Decals in Phoenix DMA
1 Stop Signs Creates One-of-a-Kind Window Graphics for Business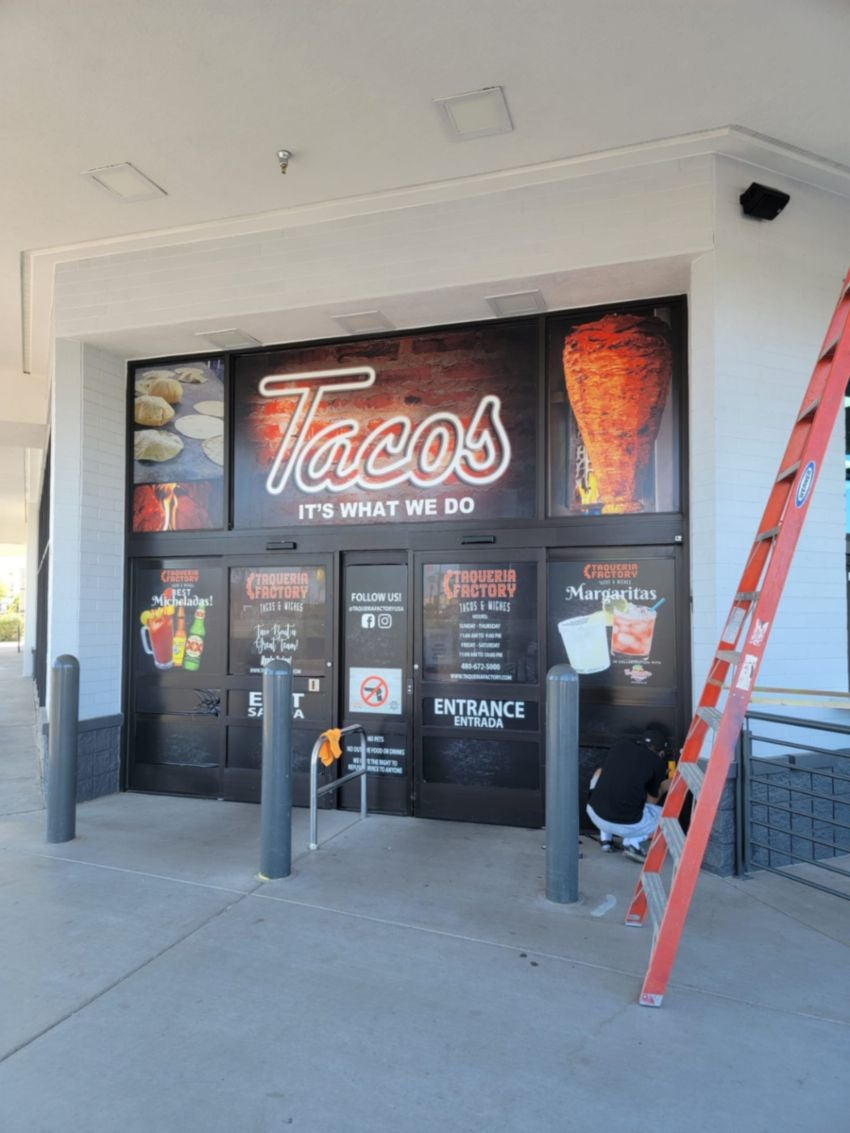 If you own a business with a storefront, never underestimate the power of window decals to help tell your story and grab the attention of passers-by. Window decals are made using vinyl sheets with sturdy adhesive backings. They can be attached to any glass surface, making them ideal for storefronts, vehicles, and offices of all types. Although their adhesive can withstand the elements to make them a permanent option, they're also removable for temporary or seasonal advertisements. 1 Stop Signs specializes in custom window decals businesses in Chandler, Phoenix, and beyond. If you'd like a free estimate, we would be happy to discuss the details with you in greater detail. Call us today!
Types of Window Decals for Business We Offer at 1 Stop Signs
1 Stop Signs can help you customize vinyl window decals for your business in any shape, size, or design. Window decals are ideal for interior or exterior glass surfaces, with the only difference being which side of the decal has the adhesive layer. Inside decals are printed backward since the adhesive needs to be applied to their front. Putting your decal on the inside of your storefront provides additional protection from the elements so that you won't have to replace it as often. Whether you want interior or exterior window decals, you have many options to choose from, including the following:
Full Window Decals – If you want full window decals to cover your window's entire surface, we recommend window wraps. Window wraps can be cut to fit your window's exact dimensions and come in perforated, opaque, and transparent options depending on whether you want to be able to see through them. We can add graphics or text in any color. Frosted vinyl decals make a decorative privacy barrier, while opaque decals can block out the sun's ultraviolet rays. Our team would be happy to help you create an entire mural with contrasting colors on your windows. Want custom-lighted window signs for your storefront? Just ask!
Die-Cut Decals – You may like the idea of putting window decals on your storefront, but maybe you don't want to cover your entire window space. Die-cut decals give you the option of placing your business logo or a specific artistic design on your window to make it stand out. A halo cut can create a faint border around your design for a professional, eye-catching graphic.
Vinyl Lettering – Many businesses go beyond the mere addition of a decal logo to include vinyl lettering on their storefront or glass door. Vinyl lettering allows you to list your business hours, name, and even your contact information (address, phone, website, and social media links) for customers passing by. We can help you create clear, easy-to-read vinyl lettering with customizable fonts and spacing.
The Benefits of Custom Window Decals for Your Business
Increased visibility and brand awareness are the biggest benefits of using custom window signs. Optimizing your window space is crucial, whether your business is located inside a strip mall or on a downtown street. It makes an excellent advertising platform for upcoming sales or special events and gives passers-by a teaser of what you have to offer to entice them to pay you a visit. Even when your business isn't open, having your contact info or business hours posted on your window or door alerts potential customers where they can look online to view your products or services in the meantime.
Every business benefits from expanding its audience, and custom window graphics can help you accomplish this with minimal cost or effort. Vehicle graphics are even more advantageous to your advertising, as people are always on the go. If you have company or delivery vehicles out on the roads, why not turn them into moving billboards advertising your name, logo, and contact info?
Over Two Decades of Custom Signage Expertise at Your Service
Whether you're interested in illuminated or non-illuminated window signs, 1 Stop Signs has you covered. Since 1996, our team has specialized in creating stunning interior and exterior signs to help businesses expand their presence and brand image. From lobby and directional signs to monument signs, LED signs, sandblasted signs, and architectural signs, we offer many cost-effective options for your consideration. We pride ourselves on efficient turnaround times to meet your expectations and unparalleled customer service. We never cut corners on creating custom signage to give you the stunning final products that you deserve. View our photo gallery to get a glimpse of our work.
Get a Free Estimate on Custom Lighted Window Signs & More
When you're ready to do a little window shopping for custom signage, 1 Stop Signs welcomes your business. Our company has been a one-stop-shop for custom window decals for businesses in Chandler and Phoenix, AZ, and surrounding areas for over two decades. Colorful window decals are favored by many retailers, restaurants, venues, and niche companies looking to increase their brand awareness. We've worked with many national and international brands for all their custom signage needs, including Nike, The Joint, Firehouse Subs, Cold Stone Creamery, Surf City Squeeze, Carquest Auto Parts, and Which Wich Superior Sandwiches. We would love to work closely with your organization. Please reach out to us today to request more information about our flexible financing options or a free estimate.
Our Values
Excellent Customer Service
State of the Art Manufacturing
Quick turnaround