Custom Attached Signage in Phoenix DMA
We Offer Premier Attached Signage Options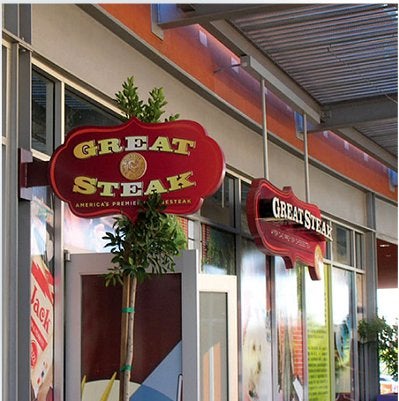 1 Stop Signs is the leader in the attached signage in Chandler and Phoenix, AZ. Our teams of signage professionals have more than 20 years of hands-on experience in the sign industry and possess the knowledge, skills, and tools to create dazzling modern signs. We work with individuals, organizations, and commercial clients worldwide to design, manufacture, and install attached signage, digital displays, and business banners. Collaboration is at the heart of what we do. We are dedicated to your unique needs and employ a state-of-the-art manufacturing process to offer quick turnaround times, superior products, and stellar customer service. Whether you are looking for interior signs for your business, exterior illuminated signage, or a modern LED fabrication, we offer a wide range of innovative solutions to help you advertise and achieve success. Call us today to discover how we can serve your business needs.
What Is Attached Signage?
Attached signage is an interior or exterior sign attached to another sign, usually by chain links or rings. Extremely versatile for business parks, strip malls, and medical office buildings, attached signs differentiate businesses from their neighbors and help brands stand out. Attached signage gives customers their choice of essential elements such as medium, stylized fonts, custom colors, and styles. Talk to 1 Stop Signs about all your unique attached sign ideas.
Benefits of Attached Signage
Customers throughout Greater Phoenix trust 1 Stop Sings to personalize their attached signage. We consider you as our business partner. Our design team goes over all your future goals and offers honesty and transparency throughout the process. From concept development to sign design, manufacturing, and installation, we give you dynamic options and help you create a finalized product that will exceed your expectations. Attractive benefits of the attached signage include:
Customization: Every business is different. We have a proven process that produces attached signage tailored to fit your business's location, look, geographical setting, and brand. Select the style, color, and brightness of your signs, along with the size, lettering, and format. We can help you bring your vision to life.
Prime Materials: Our company has manufactured thousands of signs since 1996, using only the finest materials. With elements such as lighted dimensional lettering, vinyl wall graphics, and low-energy LED bulbs at our disposal, we can create sleek, attractive signage that genuinely stands out.
Global Capability: Whether you are down the street or halfway across the globe, our signage is never out of reach. We manufacture signs for major theme parks, stadiums, and established brands, and we're happy to work with you too! Contact us today, and we will get you started on a sign package perfect for your business.
Perfectly Positioned Signage: Proper signage positioning attracts the attention of new and existing customers for your business. Vibrant, well-placed signage enhances your marketing results and offers the perfect gateway into your sales process.
Customer Connection: Without a customer connection, your business cannot succeed. Your signage is the front line for showcasing your brand's commercial value and eliciting a positive emotional response from would-be buyers. With professional attached signage from us, you can make that essential connection and invest in your future.
How to Maintain Your Attached Signage
At 1 Stop Signs, we guarantee that certified experts professionally manufacture all of our products. Our signs are made to not only look incredible but also give you lasting indoor and outdoor advertising that sets your business apart. As part of our services, we recommend easy-to-follow maintenance steps to help you get the most out of your attached signage:
Clean Your Electrical Signage: Regular inspections as well as interior and exterior cleanings are a must with electrical signage. If you are not able to complete the process yourself, hire professionals for fast, efficient service. Experts have the knowledge and experience to ensure proper function and safety and keep your attached signage from burning out.
Shade Your Signage: When your exterior signage is exposed to the elements, you must cover it with shade. Shade protects your signage from harmful sun and UV rays, rain, and wind. It also preserves the integrity of the materials and design.
Replace Signage Lettering: It does not matter if your attached signage is digital or traditional; your lettering must be replaced a few times per year. Improved lettering means better visibility. Replacing faded or missing letters create a better impression for your business and bring more customers through your doors.
Take Additional Precautionary Measures: Among the better precautionary measures you can take for your signage are coatings, bracket inspections, and replacement of any broken or hazardous components. Taking these steps can prolong the life of your sign and save you money in repair costs.
Contact Us for All Your Signage Needs
Opting for professional signage means you take your business seriously. But you need to know whom to trust to make that lasting customer impression. 1 Stop Signs has been creating powerful commercial signage for local and international clients since 1996. As members of the Arizona Sign Association and International Sign Association, we have skills and knowledge you can depend on for the attached interior, exterior, and LED signage. Contact us today to schedule your consultation and find out how we can help your business.
Our Values
Excellent Customer Service
State of the Art Manufacturing
Quick turnaround