Outdoor Illuminated Business Signs in Phoenix & Chandler
One of the most important and salient aspects of your business or brand that your clients will remember is your exterior signage. It goes without saying that this should be a primary area of focus for your organization and that exceptional quality and design are imperative. This is where 1 Stop Signs comes in. When it comes to exterior illuminated business signs, look no further than us. Throughout the Phoenix area, we've provided LED signs, monument signs, attached signs, awning signs, and much more. No matter what type of outdoor sign you need for your business, we will help you develop a branded business sign that will boost your visibility and help promote your image.  
Tips for your illuminated business sign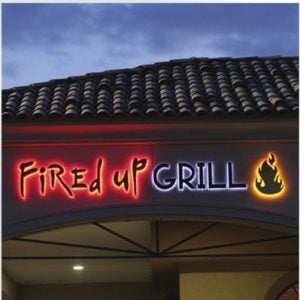 We've been in the industry of designing and manufacturing custom exterior business signs since 1996, so we know the ins and outs of what makes a successful outdoor business sign and what doesn't. Since your business sign—whether it's a digital, monument, or awning sign—is there to help bring in customers, here are some tips to help increase the visibility of your exterior illuminated sign:  
Make sure that you use colors that are bright and visible—both during the day and night. Remember that darker colors won't contrast well when it's night, which will reduce impact and visibility. 

 

All text colors should clearly contrast with the background, otherwise, your sign will be difficult to read from farther away. However, you can use similar colors if you use a shadow or outline effect.

 

Less is more—keep outdoor illuminated signs simple. The "busier" it is, the more difficult it will be for potential clients to read. In addition to that, it will make your brand look messy and cluttered. 

 
Popular illuminated sign options
We provide an extensive range of outdoor illuminated signs in the Phoenix area, and always have quick turnarounds thanks to our state-of-the-art manufacturing equipment. Give us a call to set up a consultation so we can discuss in-depth options specific to you. Below are some general guidelines to follow.  
If you want a simple and basic exterior illuminated signage option, consider outdoor lightboxes. Easy to update and modify, you can adapt your brand logo as necessary at any time.

 

If your brand is well-known in the area, consider lighted dimensional lettering, which you can install on a signage structure that's already there. You can also attach the lettering directly to your building. 

 

If you prefer a sleek design, consider a metal sign: With backlighting or spotlights, your logo will catch the eye of everyone in the neighborhood!

 

For longer lifespans and virtually no UV emissions, consider LED signs.

 
No matter what kind of custom exterior illuminated business sign you want, our experienced team will help you design the perfect outdoor sign to help you boost your brand! Contact us today to learn more about our products, including LED signs, digital signs, and all other types of outdoor signage in Phoenix! 
Request a free quote by calling (480) 961-7446! 
Our Values
Excellent Customer Service
State of the Art Manufacturing
Quick turnaround