Exterior Business Signs in Phoenix DMA
We Can Design Your Outdoor Business Signs
Exterior business signs play a critical role in determining the success of your local business. If you own a brick-and-mortar business in Phoenix, AZ, it is important to ensure that you have an exterior sign that informs potential customers of what your business offers. A well-designed exterior sign will create brand awareness and attract more people to your business.
Throughout the Phoenix area, we've provided LED signs, monument signs, attached signs, awning signs, and much more. No matter what type of outdoor sign you need for your business, we will help you develop a branded business sign that will boost your visibility and help promote your image.
Why Exterior Business Signs Are Important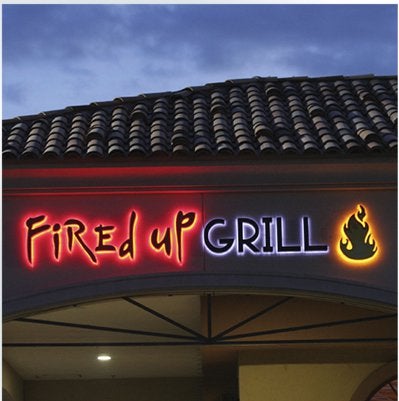 Having the perfect outdoor sign does more than just advertise your presence. A good outdoor business sign will help you engage with potential customers and convince them to visit your shop. Below are reasons why exterior building signs are important.
Increase Awareness – One of the benefits of having exterior business signage is that they tell your clients that your store is open. When customers see a lighted outdoor sign, they will know that your store is open, allowing you pull in more local business.
Communicate Your Business – Exterior signs for business are also a powerful tool that you can use to communicate with your customers. For instance, if you have a grand opening sale or you have added new products to your store, you can use outdoor signage to inform your clients.
Cost-effective – If you own a business in Phoenix, AZ, then you know that marketing in both print and digital media is very expensive and beyond reach for many small businesses. One of the best ways to market your business is by installing outdoor signage. If professionally designed and installed, outdoor signage will provide an amazing value at a very low cost.
Tips for Outdoor Business Signs
A couple of important factors go into getting the perfect exterior business sign for your business. Take some time to think about the colors and fonts that will be in your sign, as well as the size and the message that you want to communicate.
1 Stop Signs have been in the industry of designing and manufacturing custom exterior business signs since 1996, so we know the ins and outs of what makes a successful outdoor business sign and what doesn't. Since your business sign—whether it's a digital, monument, or awning sign—is there to help bring in customers, here are some tips to help increase the visibility of your exterior illuminated sign:
Colors & Fonts – When choosing a color for your outdoor sign, make sure it suits your target audience. Fonts should be simple and easy to read, and colors should draw attention. Make sure that you use colors that are bright and visible during the day and night.
Size – This is an important factor that people tend to overlook. The size of the sign matters a lot. The ratio of the letters in the sign should not be too large or too small. Instead, they should match the size of the building.
Message – Most of your target clients will be walking or driving, meaning you have a very short time to pass on your message. Keep the message short and precise
Types of Custom Exterior Signs
There are many different types of exterior business signs to choose from, including awning signs, pole signs, storefront signs, channel signs, POS signs, and more.
We provide an extensive range of outdoor illuminated signs in the Phoenix area, and always have quick turnarounds thanks to our state-of-the-art manufacturing equipment. Give us a call to set up a consultation so we can discuss in-depth options specific to you. Below are some general guidelines to follow.
If you want a simple and basic exterior illuminated signage option, consider outdoor lightboxes. Easy to update and modify, you can adapt your brand logo as necessary at any time.
If your brand is well-known in the area, consider lighted dimensional lettering, which you can install on a signage structure that's already there. You can also attach the lettering directly to your building.
If you prefer a sleek design, consider a metal sign: With backlighting or spotlights, your logo will catch the eye of everyone in the neighborhood!
For longer lifespans and virtually no UV emissions, consider LED signs.
Contact 1 Stop Signs
No matter what kind of custom exterior illuminated business sign you want, our experienced team will help you design the perfect outdoor sign to help you boost your brand! Contact us today to learn more about our products, including LED signs, digital signs, and all other types of outdoor signage in Phoenix!
Request a free quote by calling (480) 961-7446! 
Our Values
Excellent Customer Service
State of the Art Manufacturing
Quick turnaround