Commercial Awning Signs in Phoenix DMA
Get Attractive Awning Signs from 1 Stop Signs
Awning signs and canopies create an attractive look for your business. An appealing alternative to ground-level storefront signs, awnings provide superior visibility, marketing opportunities, improved comfort, and better customer service. But a well-crafted awning sign that is built to last can be a rare thing. You need a company with a state-of-the-art manufacturing process, the best materials, and a proven track record for exceptional installations and honest service. In the Greater Phoenix area, 1 Stop Signs is here for all your awning needs. Our company has offered professional awning design and installation since 1996. We can help promote your brand the right way, make an impression on your customers, and even provide shelter from sun and storms through awning signs that stand the test of time.
What is the Awning Signage?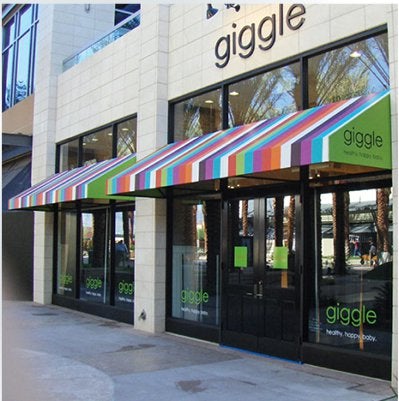 Awning signs advertise your business's name and pertinent information on a hanging accent above a door, threshold, or business area. Unlike standard business signage, they serve many purposes in addition to marketing. They also protect incoming and outgoing customers from inclement weather and prevent slip and falls on ice or snow. Awning signs are attached atop your building during installation and can be made from vinyl, acrylic, polyester vinyl composite, metal, and other natural materials. Schedule your appointment with us to learn more about all your awning options.
Benefits of Awning Signs:
Awning signs are not just for show. These features offer various perks for both customers and business owners, year-round, in advertising, safety, and even energy efficiency. In Chandler and Phoenix, AZ, 1 Stop Signs works with commercial clients from across town and worldwide to design, manufacture, and install awnings to help their businesses grow. Some of the top benefits of awning sign installation include:
Increased Brand Visibility: A custom storefront awning is hard to miss. Mounted high on your building, you can effortlessly create the kind of brand visibility you want for your business. An awning designed, manufactured, and installed by 1 Stop Signs is not only pleasing to the eye, but it also delivers the kind of complete brand experience your customers want from start to finish. Returning customers will notice the update as you showcase your colors and logo, and new customers will be drawn to your well-branded establishment from almost any vantage point.
Shelter & Increased Comfort: Often an overlooked benefit, canopy signs and awnings offer physical shelter from inclement weather or intense UV rays. They create a cozy, inviting entrance for all your customers. Depending on the size of your awning, you can add a door attendant or greeter, waiting area, or even seating for additional comfort. These efforts lead to an improved perception of your business and cause new and existing customers to spend more time and money at your location.
Utility Savings: According to the American Society of Heating and Air Conditioner Engineers, businesses with awnings installed over their front entrances save up to 25% on their electricity bills. An awning sign not only reduces the impact of the sun on your storefront, windows, interior, and patio areas, but it also provides a shady oasis for passing potential customers. Your A/C does not have to work so hard, either. That means a longer life for your unit and more savings on repairs and replacements.
Ambiance & Customer Experience: A commercial awning gives your customers an outdoor space to enjoy themselves freely. Whether your business is a busy restaurant, bar, or retail store, upbeat customers draw a crowd. This happy crowd can then influence your business' social media and create a buzz for you. Soon, you may even become a local landmark and attract paying customers in droves.
Tips on Maintaining Awning Signs
Awnings from 1 Stop Sings are manufactured with prime materials and installed by trained, certified experts. However, even the strongest fabrics and metals can suffer wear and tear over time. Even the best installations need regular inspections throughout the year. Our company offers some easy-to-follow tips on maintaining your awning so that it can continue to build your brand:
Routinely Clean Your Awning: Remove all loose dirt and debris from your awning with a soft broom before the deep cleaning. From there, you can spray your awning with cool water and a mild detergent to remove any stubborn excess dirt within the fabric or other material. Rinse well, as this process can eliminate any soap residue from causing stains. Also, spot clean bird droppings, tree sap, or rust as necessary. You may want to remove your awning to clean it. If so, seek the help of trained professionals. But keeping your awning on the frame works as well.
Maintain Surrounding Foliage: Trimming the trees and bushes near your awning reduces damage from branches and accumulations of falling leaves. It also gives your property a well-maintained, symmetrical look that your customers will appreciate.
Install Additional Safeguards: Awning fabrics can benefit from additional safeguard installations, such as seam sealers and other waterproofing products. These safeguards prevent tears and leaks as well.
Lubrication: As industry professionals, we recommend keeping your large commercial awning well-lubricated throughout the year. Carefully use a roller tube to apply the lubricants evenly and prevent any lubricating substances from staining the fabrics or designs.
Contact Us for all Your Awning Sign Needs
For premier commercial awnings, choose 1 Stop Signs. We have been designing, manufacturing, and installing awnings and canopy signs of all sizes for clients across the globe since 1996. We are members of the Arizona Sign Association and International Sign Association. We will always go beyond the service standard to give you the professional awning fabrication experience you deserve. Contact us today to schedule your personal consultation.
Our Values
Excellent Customer Service
State of the Art Manufacturing
Quick turnaround