LED signs have a distinct advantage over traditional commercial signage: they are highly visible in any weather and at all times during the day. That being said, there are still some things you can do to ensure your LED sign is more effective at reaching a wide audience and attracting new customers to your business. Whether you're designing an LED sign to display in your storefront or hang outside your building, here are some tips and basic principles to keep in mind to design a highly effective LED sign.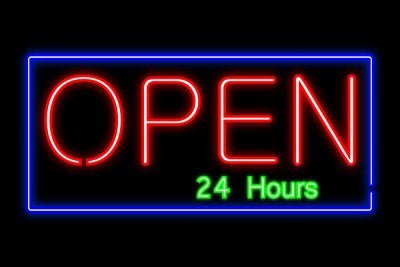 Choose the Right Font Size
Thin fonts and scripts can be difficult to read from afar, especially when an LED sign is lit up at night. However, it might be the case that your target audience will be viewing your sign from close up. That's why it's important that you first think about the distance of your viewers from the signage. The California Institute of Technology's letter visibility chart is a great resource to help you choose the right font type for maximum impact.
Focus on Legibility, Not Brightness
A common misconception people have when designing an LED sign is that brightness equals visibility. Although it's true that bright signs are easy to see, they are not necessarily very legible , which is very important if you want to convey a specific message to a specific group of people in order to attract new customers to your business. An overly bright LED sign will also burn out faster, which can increase the lifetime ownership cost of having an LED sign.
Consult a Professional
There are lots of minor details to consider when designing an LED sign, and while you can find online resources that will help you along the way, there's not a better resource than your local commercial LED sign company in Phoenix. A company that specializes in the design, manufacturing, and installation of LED signs for businesses will make sure your new signage is as effective as possible at attracting new customers.